* Limited Period Offer.
* Offer Lasts Until Stocks Last.
* Offers can be Combined.
* All Offers are Auto Applied.
Sage-Coozly Belly Back Pregnancy Pillow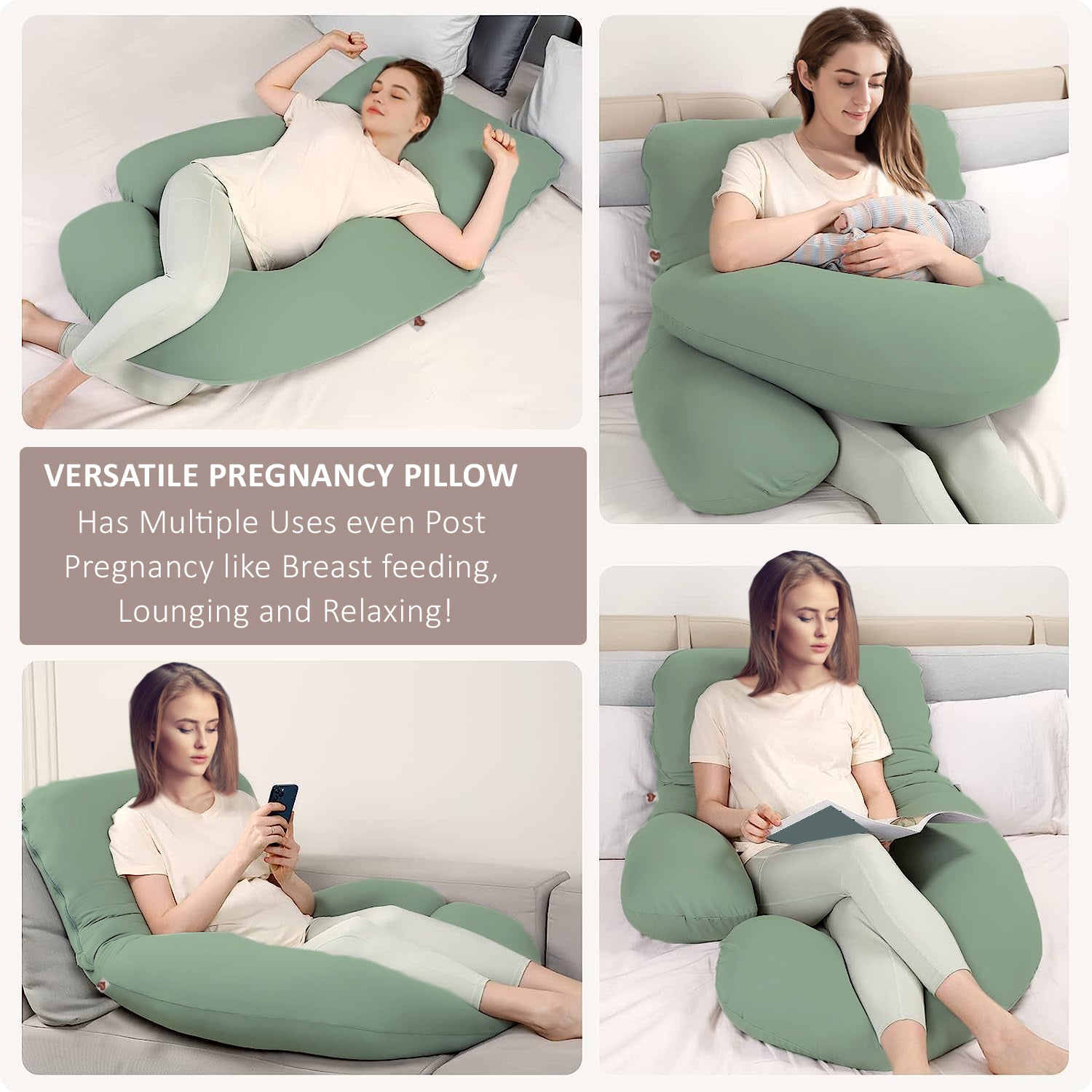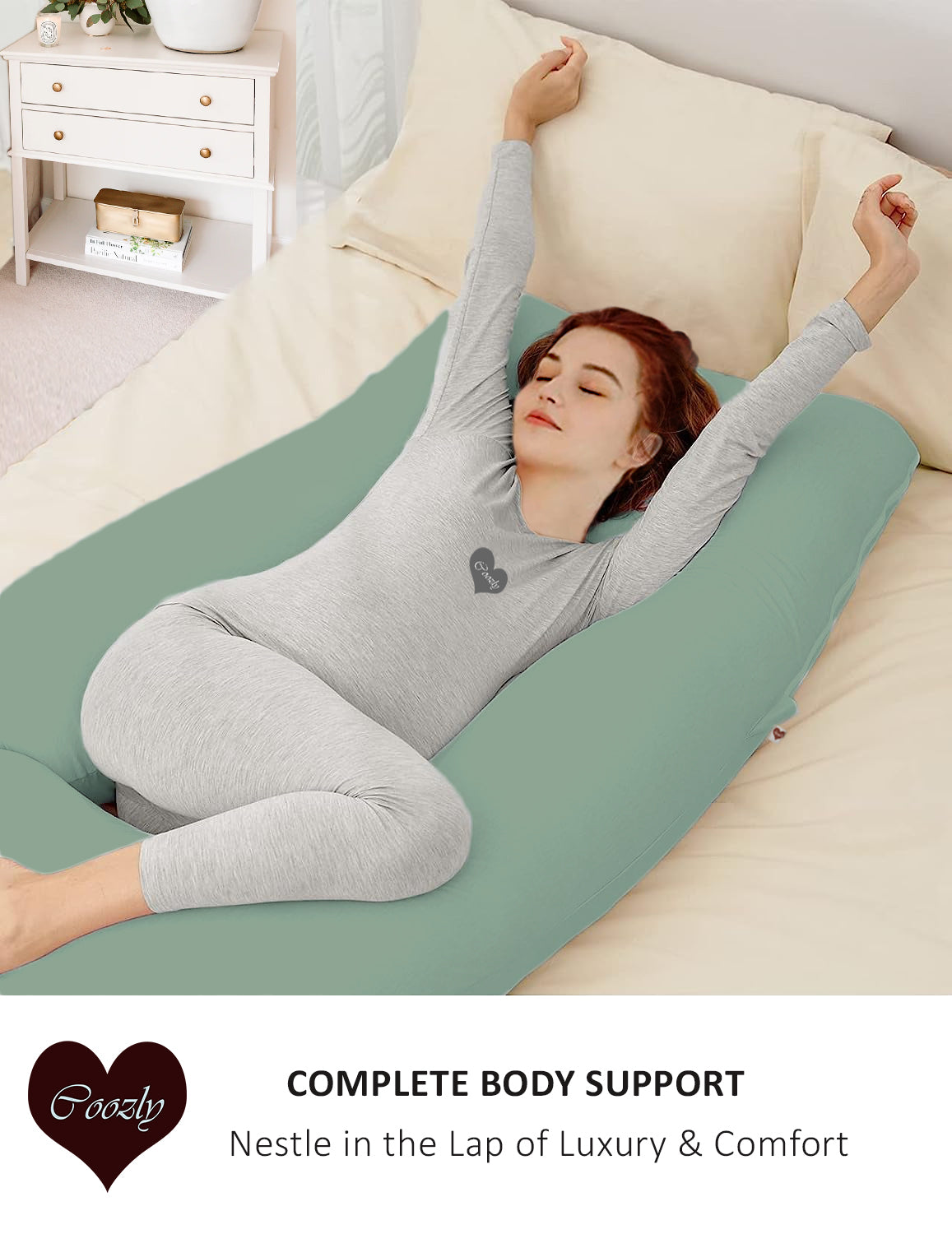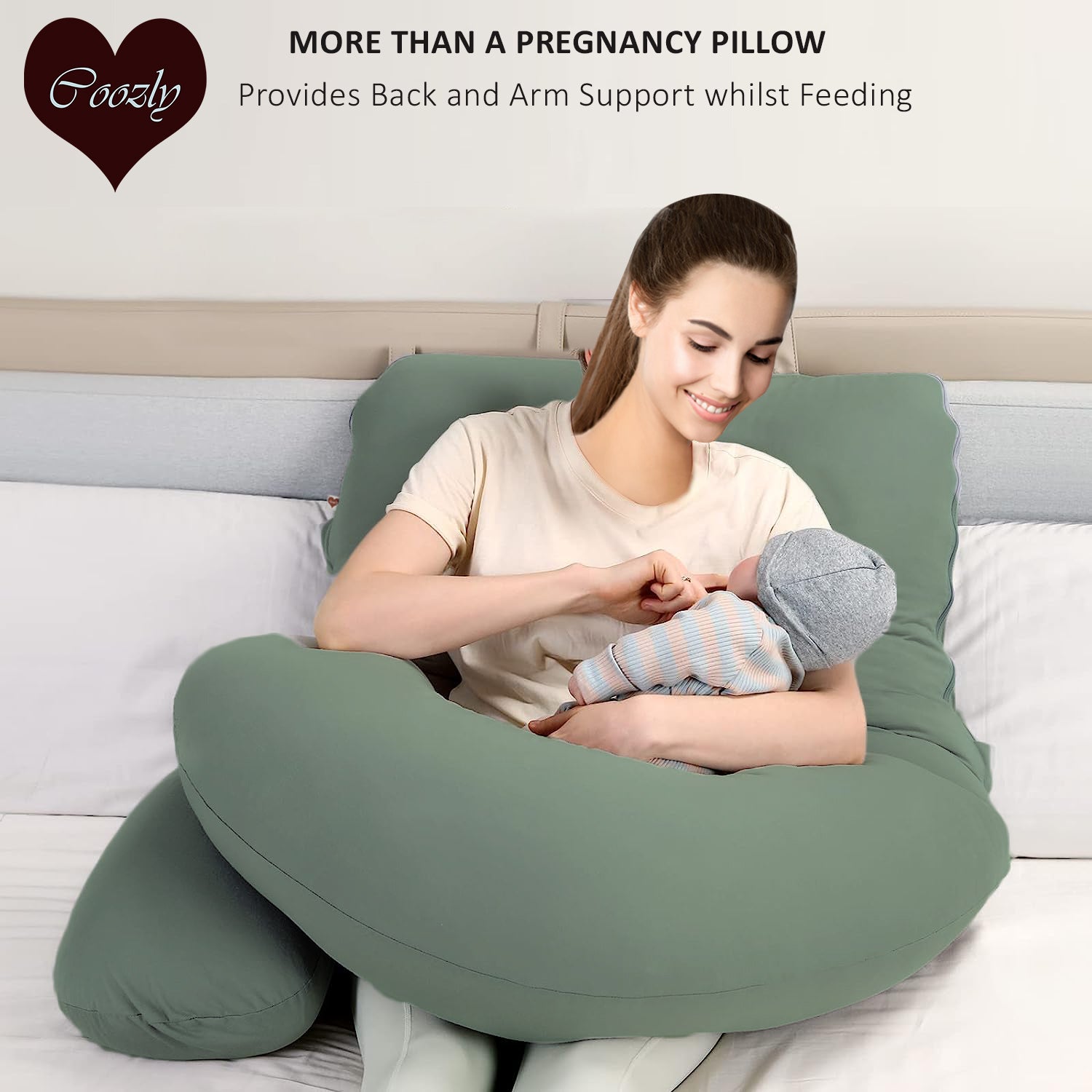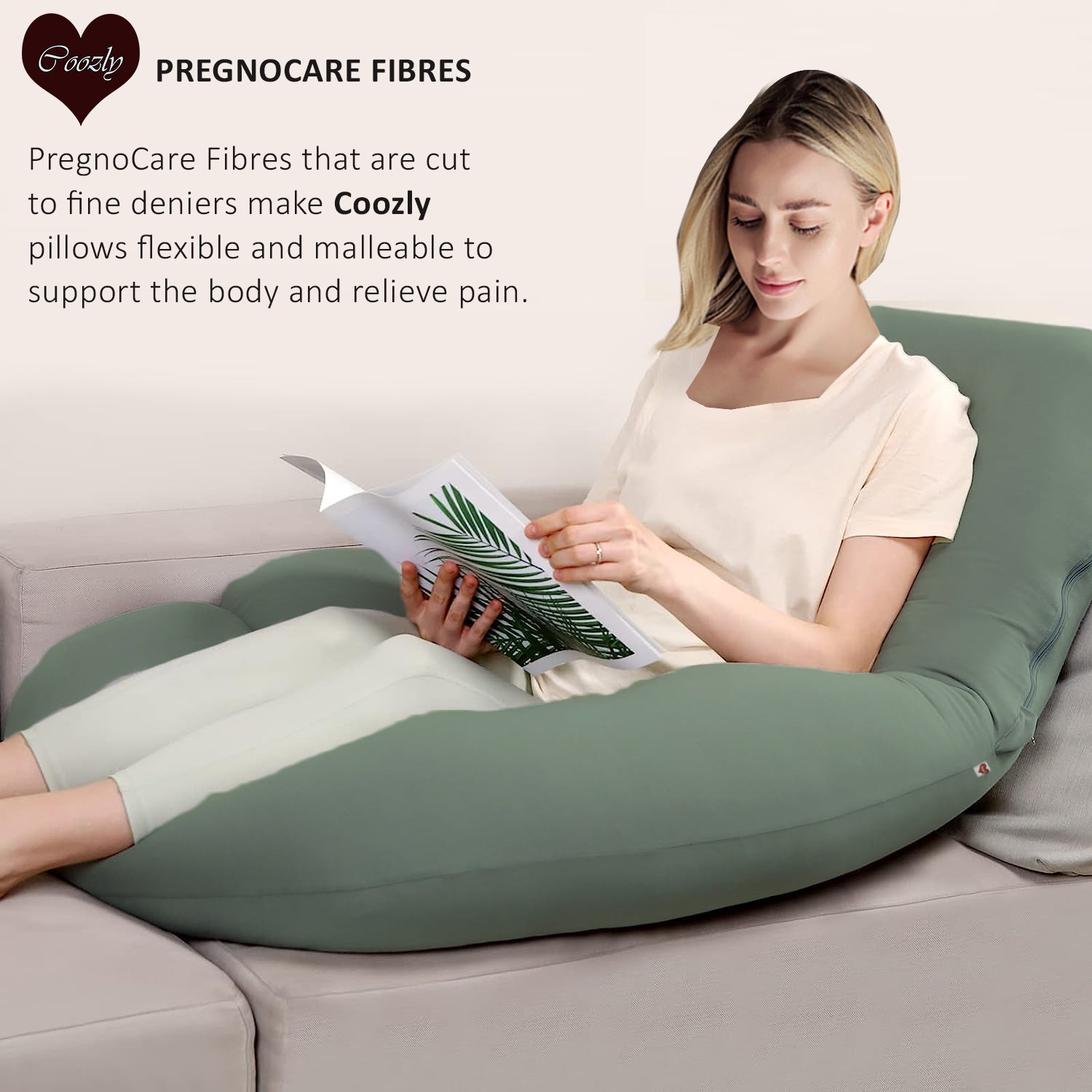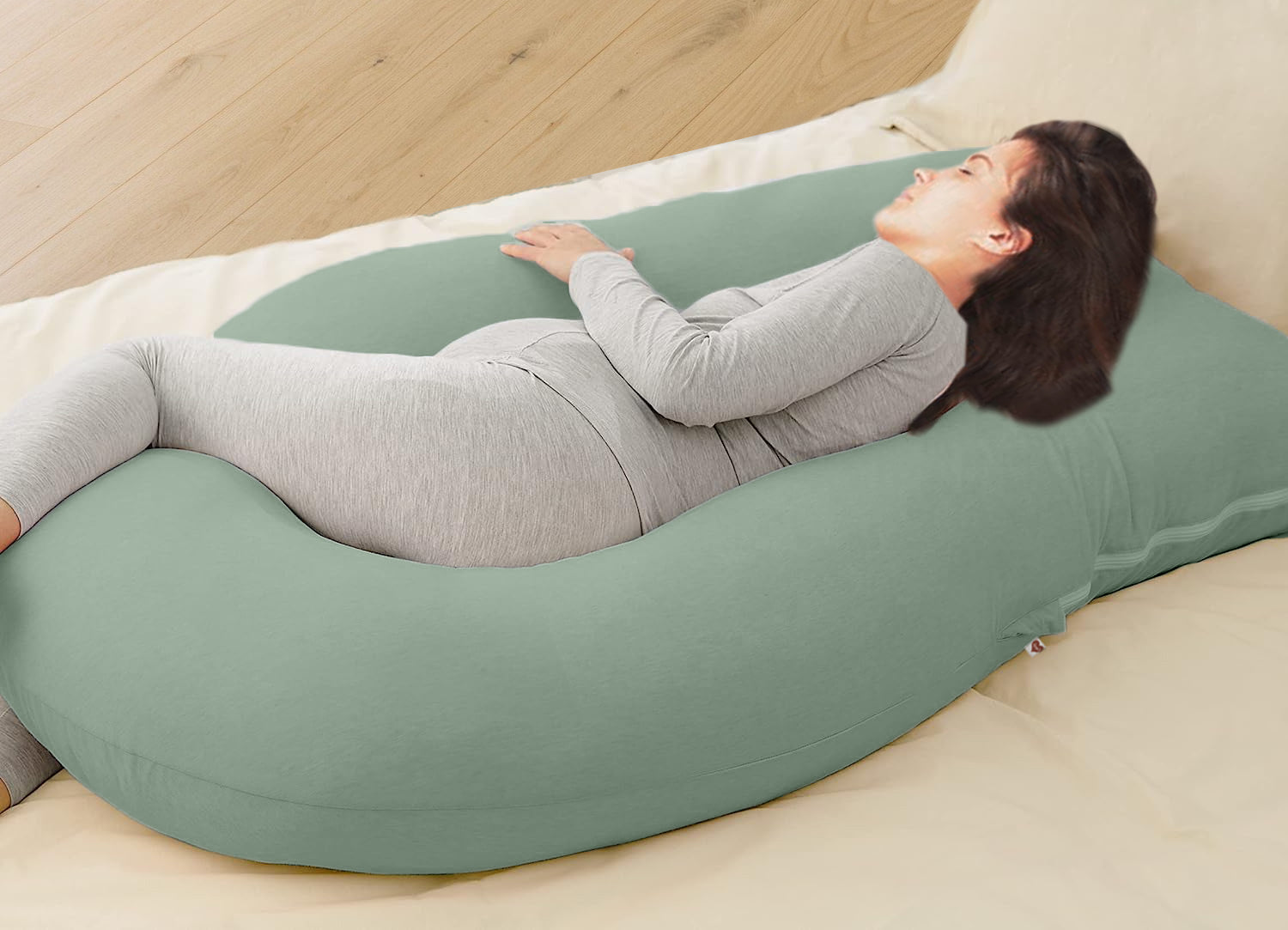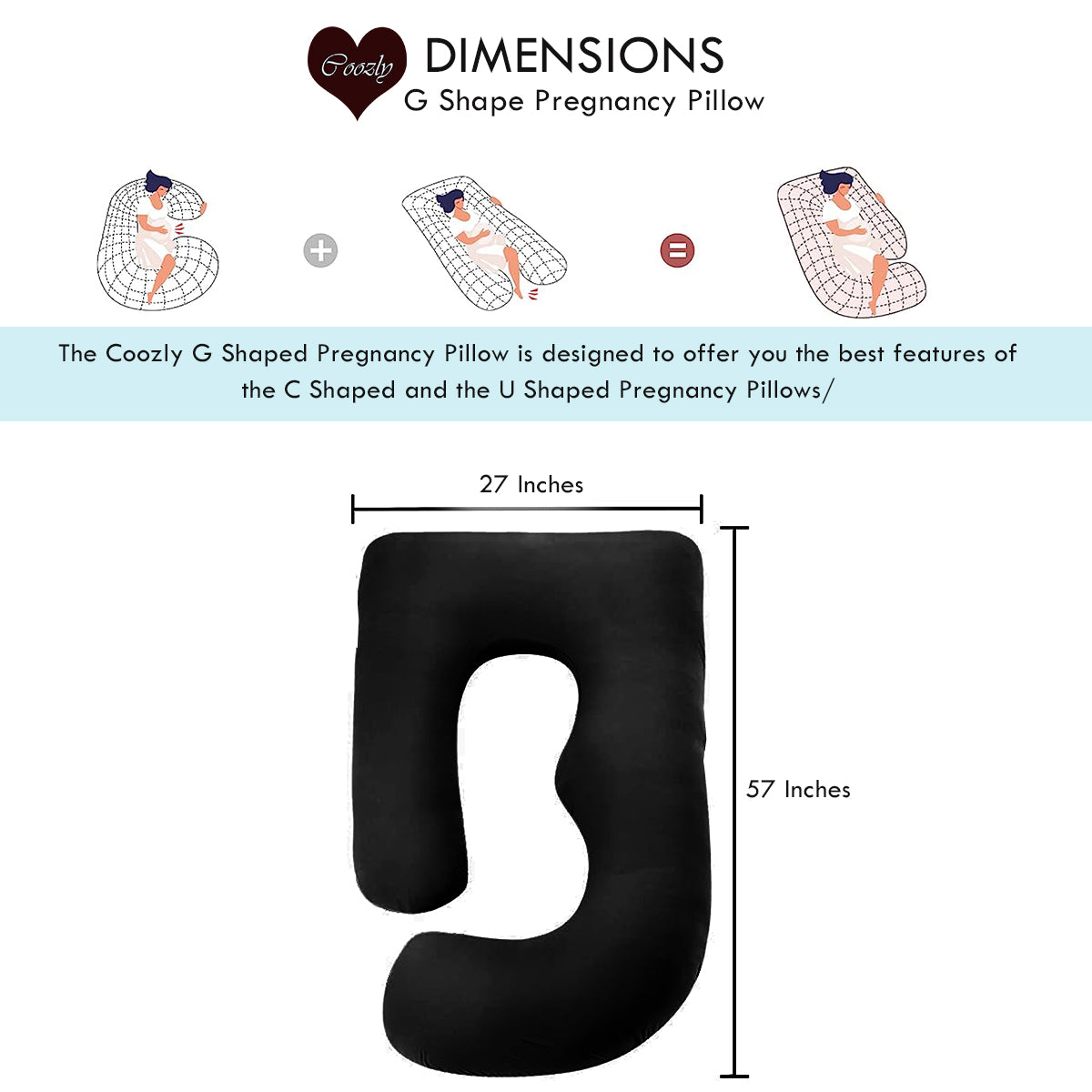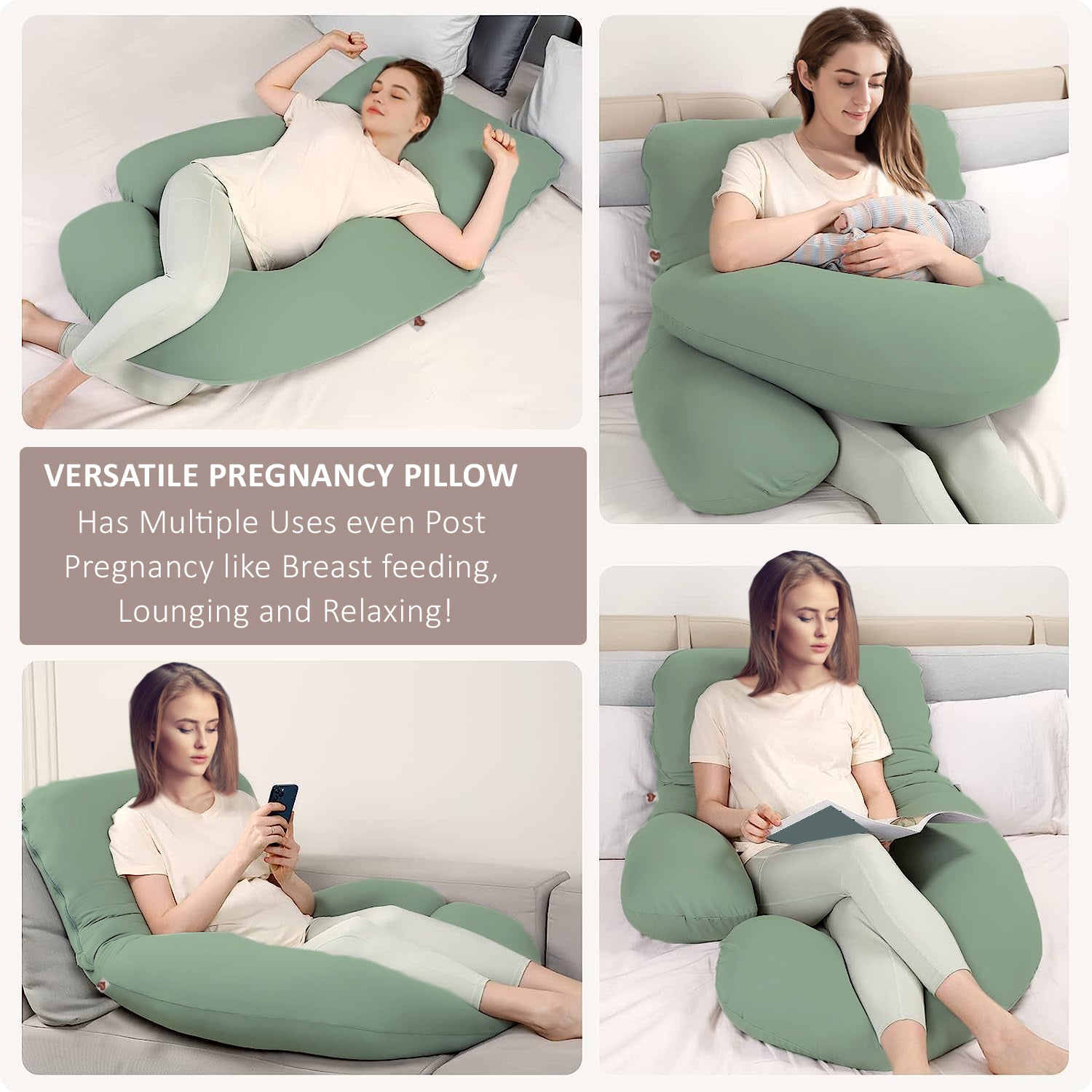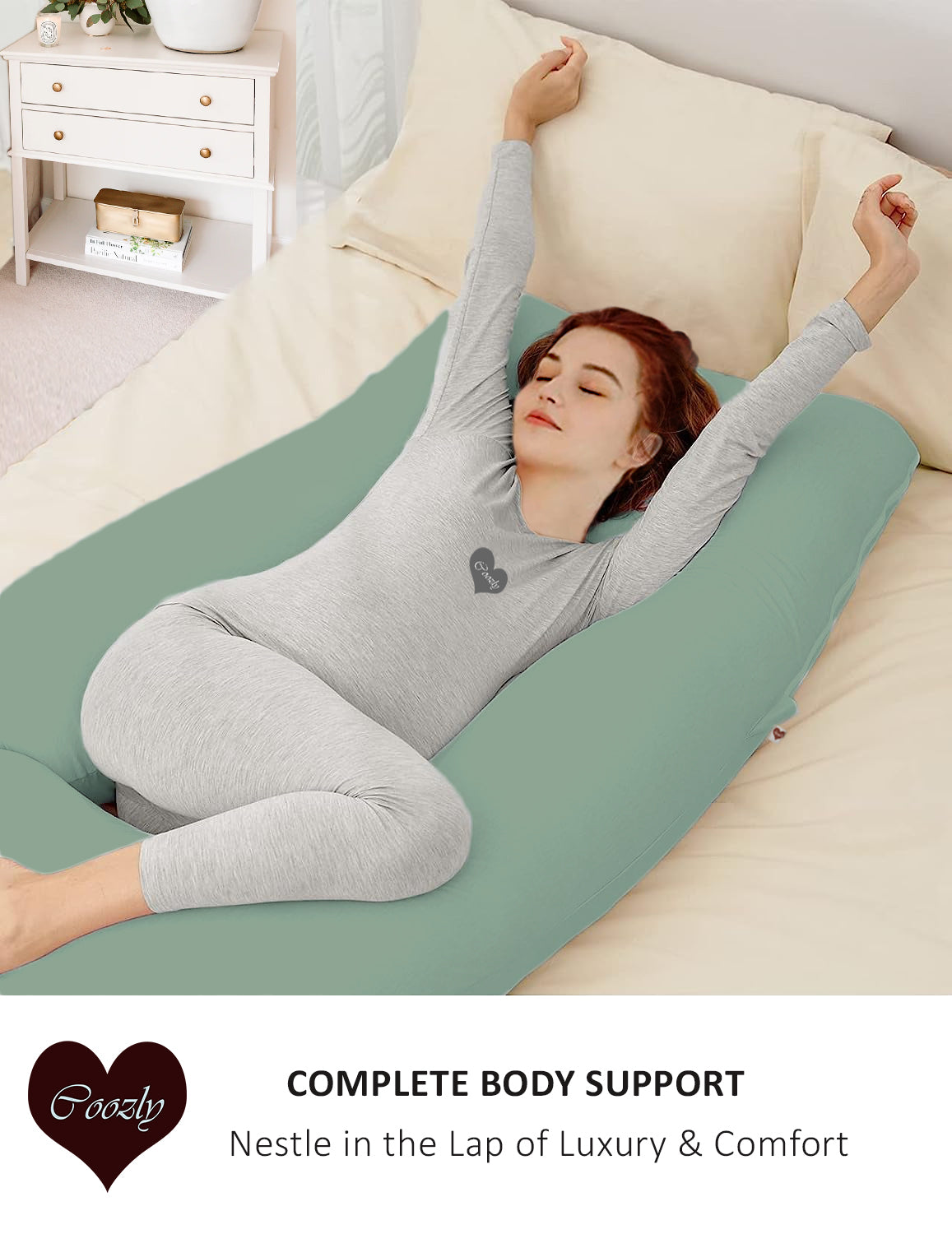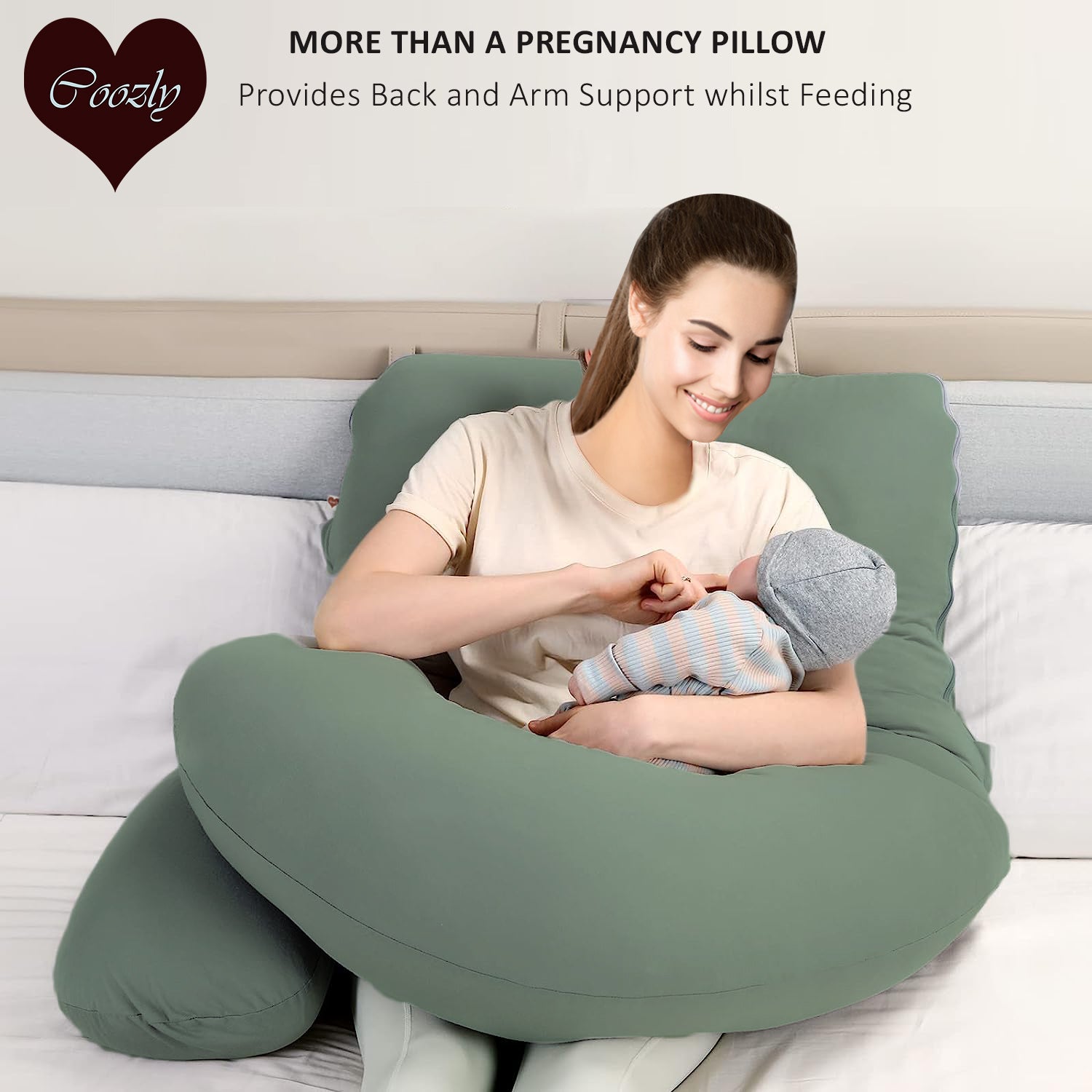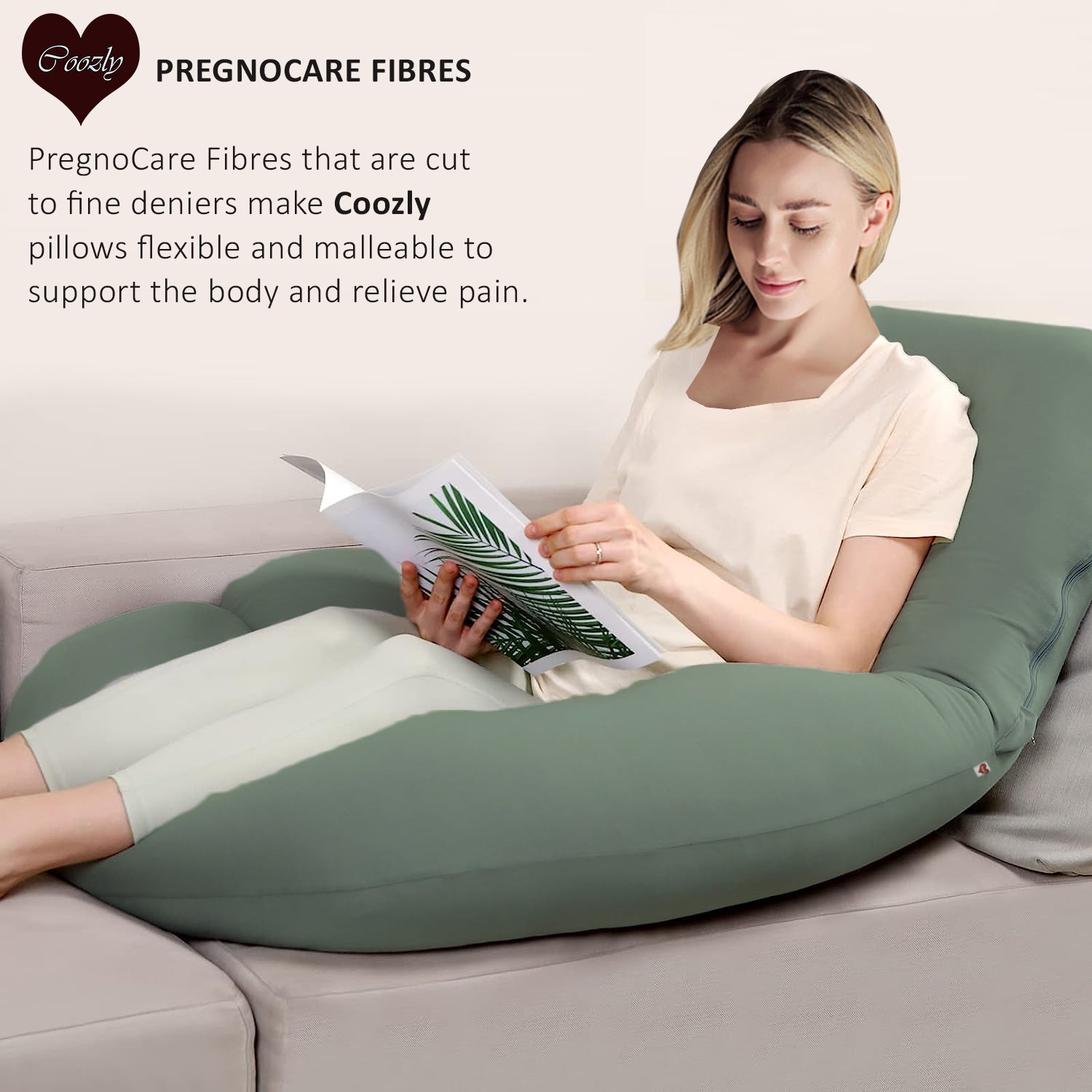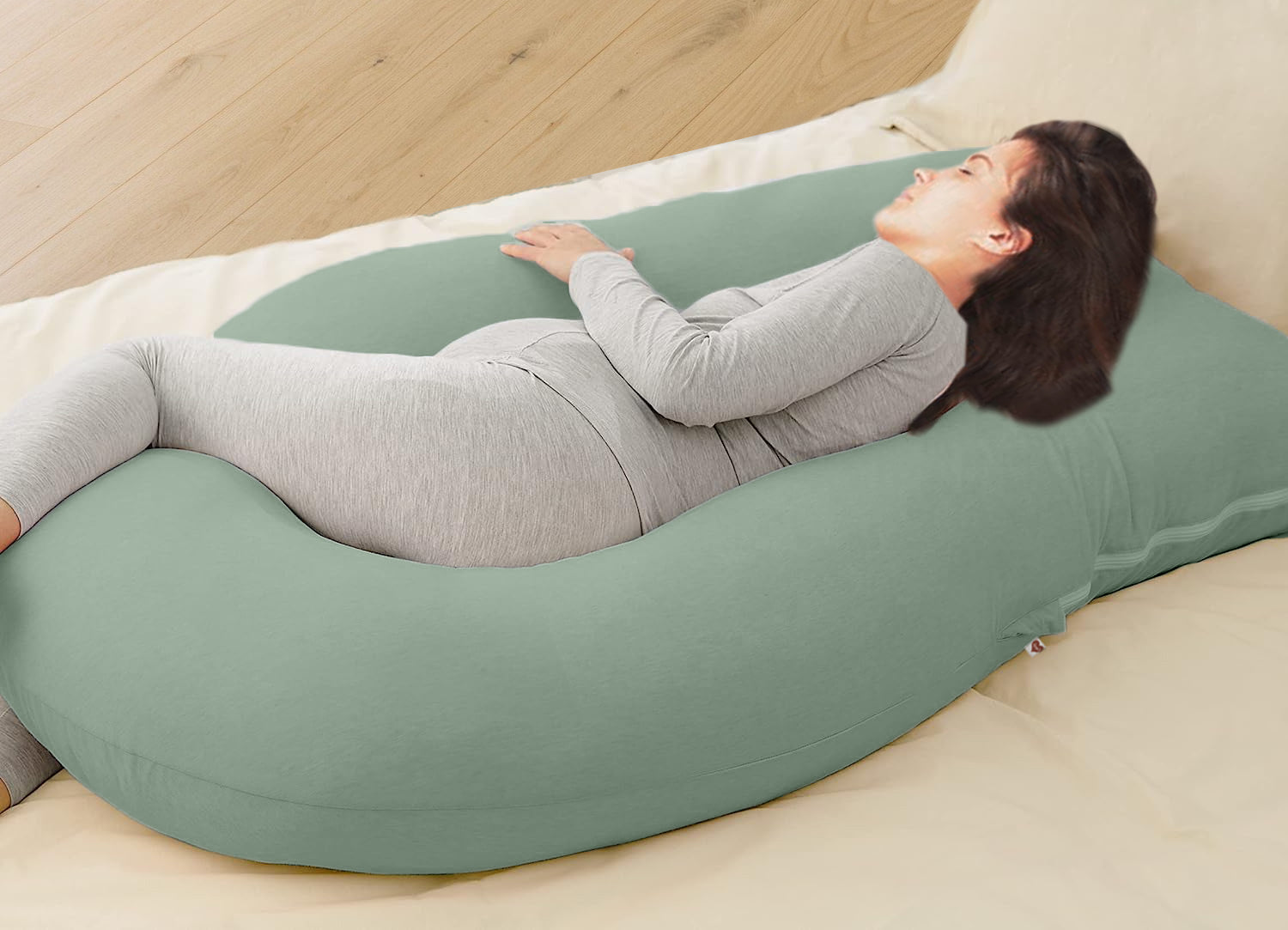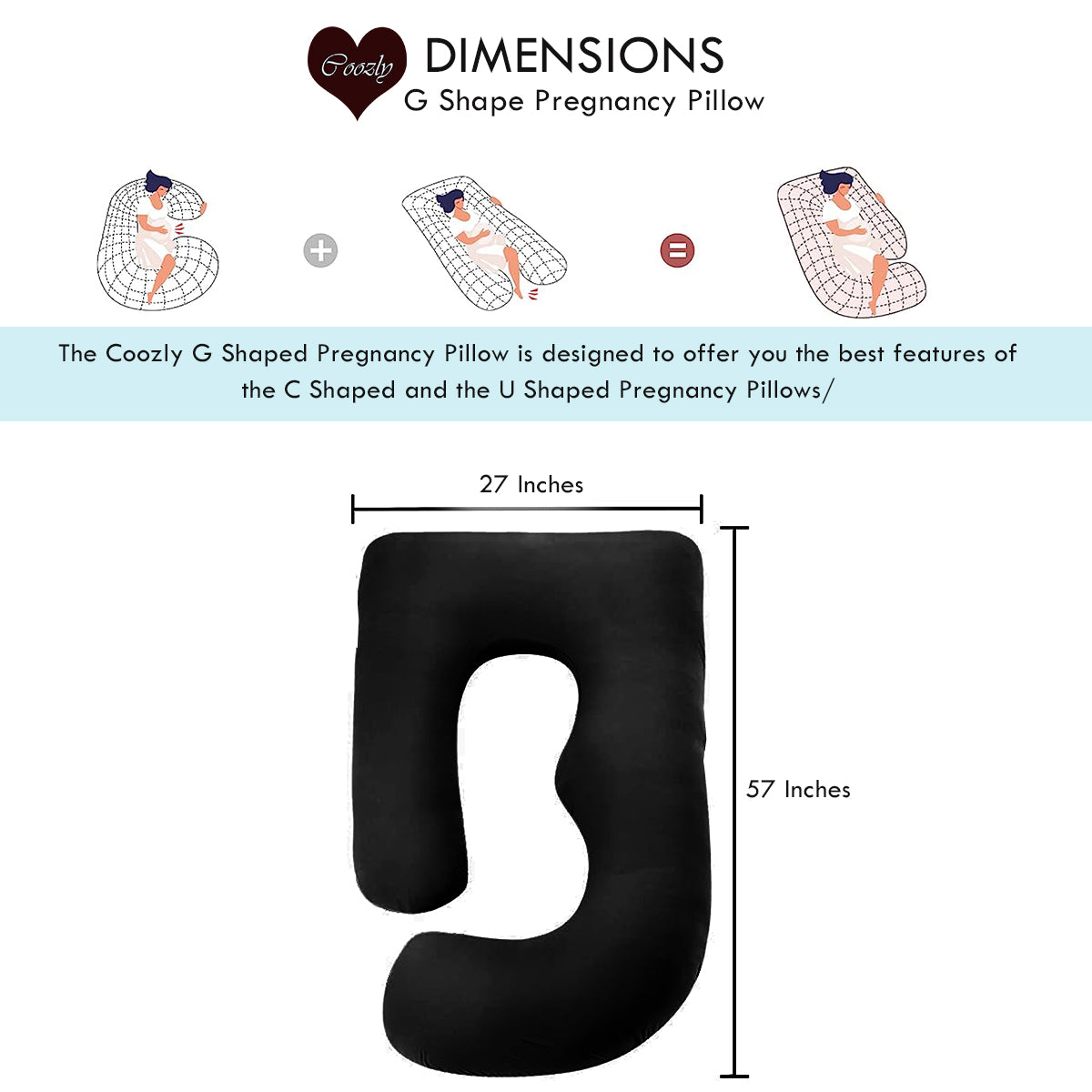 "My Pregnancy Life Saver !"
- Palak.T, a Coozly Pregnancy Pillow Customer
GET A 50% OFF extra Cover COUPON with every Purchase.
MRP:
Rs. 4,999.00
Retail Price:
Rs. 2,699.00
& Free COD Delivery
You Save: 30% +
Color
100% Money Back Guarantee
PRODUCT DESCRIPTION
Get the luxurious Coozly Belly Back Pregnancy pillows | Maternity Pillows and sink into the lap of blissful luxury.

Made with SuperFine PregnoCare fibres and covered in a 100% cotton cover, this Pregnancy pillow will fit in right with your room and your persona.

The Belly Back Contour shaped pregnancy pillow is very malleable and can be used in many positions for breastfeeding, lounging and a lot more.

The COOZLY Belly Back Pregnancy Pillow is designed to provide comfort and support during pregnancy, reading, lounging, and breastfeeding. It features high-quality SuperFine PregnoCare Premium fibers that are hypoallergenic, non-reflexive, and null pressure, providing a seamless feeling. The pillow is filled with small deniers of Coozly Fibers, offering superior comfort.

The pillow comes with a zippered cover made of NEWD 100% Cotton Compact Fabric that is removable, allowing for easy washing. The compact fabric is durable and soft, providing a comfortable surface for lounging or sleeping. The pillow's unique shape offers support to the back, belly, and legs, eliminating the need for multiple pillows.

The COOZLY Belly Back Pregnancy Pillow adheres to internationally accepted quality standards, ensuring its durability and performance. It is vacuum-packed and comes in a zippered bag for easy transportation and storage.

Overall, the COOZLY Belly Back Pregnancy Pillow is a versatile and comfortable option for pregnant women, new mothers, and anyone in need of support while lounging or sleeping. Its high-quality materials, hypoallergenic properties, and convenient design make it a reliable choice for a variety of uses.
BENEFITS OF COOZLY PREGNANCY PILLOWS
Contains 1 Pregnancy Pillow with Cover.

Contains High Quality Coozly PregnoCare Fibres that are cut to the Finest Denier for seamless even feel.

The Zippered Cover is made of NEWD 100% Cotton Stretch Fabric and is Removable so that you can wash it.


Ideal for Lounging, Reading and Backrest. Aligns Spine and Shoulders with Good Back Support.

Available in many Shapes and Sizes. The pillow shape offers back, belly and leg support and takes away the need for Multiple Pillows. It's ideal for persons who relax on sides while lounging or sleeping. Adheres to Internationally Accepted Quality Standards. It Can be used for Pregnancy, Reading, Lounging. Post pregnancy it can be used for Breastfeeding. Flexible Design for multipurpose use.
Your Best Pregnancy Friend
The Coozly Pregnancy Pillows, made with specially crafted PregnoCare Fibres, aid to fill the gap between the base and the growing body, thus avoiding uncomfortable skin stretches. Everday Lounging and Relaxing is now so easy with the Coozly Pregnancy Pillows.
What are Fans Saying about the Coozly Pregnancy Pillows?
"Pregnancy Time is a Breeze with the Coozly Pregnancy Pillow"
Ever since my 2nd month of pregnancy, I suffered from reflux. Buying this product was the best pregnancy decision as it helped prop me up and the side cushion made lying down so comfortable. The quality is very good and so is the Customer Service!
- Ansuya.R.
"Perfect for Side Sleeping and Leg Support"
My swollen feet always needed to be propped up and side sleeping was really difficult with my growing belly until I got the Coozly Pregnancy Pillow. It can be easily folded and adjusted in so many ways on the bed, sofa and even floor.
- Maithili K.
PERFECT FOR ANY SIDE SLEEPER
I AM NOT PREGNANT BUT AM A SIDE SLEEPER AND THIS IS PERFECT FOR SUPPORT. REPLACED ABOUT 4 PILLOWS ON MY BED
Very comfortable
Soft and comfortable, I recommend
Very comfortable
I purchased this pillow for my mom. She absolutely loves it. She said it feels like a big hug.
Super comfy
This pillow is awesome! Super comfy and cozy!
pretty good support
im surprised that it provides fairly good support. I'm a back sleeper, so it's hard for me to sleep on my left side while pregnant, this actually helped me to stay in position. it's also comfortable just to lean on it to watch TV.
Love my pillow
This pillow is very comfortable and supportive in ways I didn't even realize I was lacking! I've definitely enjoyed using it and I will get a lot more use out of it seeing as I am only 6wks along at this time! Thank you!!
How did I ever live without this!
I purchased this because I was looking for relief for my sciatica. I'm 53 and beyond childbearing years, but I sure would have liked to have had this through both of my pregnancies! Anyone who is a side sleeper, even if you are not pregnant, don't have back pain or a sciatic pain, I think you would absolutely love this Just for the sheer comfort that helps line up your spine perfectly. I had my son, who is a side sleeper, try mine and he loved it! So now I'm buying one for him. I'll have to have my husband try it out. There could be more purchases in the future. I'll also be recommending this to any of my friends with sciatica. Seems like most people of all ages these days are active in this could be the perfect tool and there arsenal of combating muscle aches. For me I'm gardening, have tons of home projects, ride my horses, ATVs and am in the barnyard moving things around, etc. On our little homestead farm. I have and have been experiencing for the last probably 10 years. People are just more active these days and We're just plain harder on their bodies. I'd say most people are side sleepers and this is the perfect way to keep your back in line with your neck. For me it causes less tossing and turning. The way this pillow is shaped is better than any other pillow like it. The fact that it has a curved area for your knees and then also bends in at your back, is really nice. It makes for the perfect pain-free night's sleep.I'm not taking off a star for this by any means, because this is just too good of a product and doesn't even matter what color you have it in, but the color that I ordered was the gray, but the one that i receive is a light bluish gray which seems to be one that's another option in the list of color options... And ironically is about $10 more expensive. I really don't care what color it is, I went for the one that was on sale and light bluish gray or dark gray makes no difference at all to me.Oh another positive note... it has an easy remove cover with a zipper which makes the cover super simple to pull off and wash. The firmness as a pillow is perfection. Not too soft not too firm. It doesn't feel like the type of material that would compress over time either like many pillows do. I guess time will tell but so far so good.
Comfortable Pillow
I love this! The pillow is so comfy and it works so well with however I need to lay. I sleep so good with this pillow now. My husband even loves snuggling up on it. The size is kind like half of a queen bed.
Me encanta
Me encantó. Es súper suave y cómoda. Es grande y no se encoge como otras almohadas
Must buy
Got this for my girl since she couldn't sleep but so far so good. She is able to sleep without moving alot
PREGNANCY SOLUTION
One Solution to various Pregnancy Needs like Heartburn, back pain, Side sleeping. Perfect Aid for Better Sleep & Relaxation during Pregnancy. Adjusts easily to the growing body too.
PREGNOCARE FIBRES
Made with High Quality PregnoCare fibres that specially crafted with care for Pregnancy Needs. The fine deniers give the Coozly Pregnancy Pillows superior Flexibility & Malleability.
100% COTTON COVER
Organic 100% Cotton jersey covers give the product good temperature regulation & make the product breathable. The covers are double stitched for extra durability.
ABOUT COOZLY
EXPERIENCE PURE COMFORT AND HAPPINESS WITH OUR PILLOWS & HOME LINEN
Coozly is a premium brand of pillows and home linen. From head pillows to different shapes and sizes in pregnancy pillows, Coozly's fibre processing technology helps carve out speciality fibres like Onsomnia and PregnoCare to suit the special needs of our valued customers.
Join the Coozly family and feel the difference.
Multi-Region Pressure Relief
Even Weight Distribution
Earth-Friendly Materials
Frequently Asked Questions